AWFUL
At last night's RFA 14 event in Wyoming - an event that was broadcast live on AXS-TV - Matt Manzanares took on Junior Maranhao in the main event. A flyweight belt was on the line, so the bout was scheduled for five rounds, yet in between Rounds 4 and 5, Maranhao blacked out and fell off his stool. Was the bout stopped by either the commission or the cornermen? Nope. It was not. Maranhao was propped back up and sent out for the fifth round, and he went on to lose the decision.
Take a look at the gif after the jump.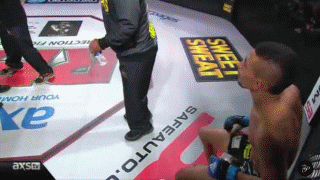 We have athletic commissions overseeing the sport for a reason, and that reason is to protect the fighters. But the commission in Wyoming clearly did not do their job. The second Maranhao face-planted, the bout should have been called.
There have been only a few deaths in sanctioned MMA bouts thus far. It seems Wyoming is looking to change that.